Here's what you might need to think about
Yes wetrooms are for everyone, but easier in a new build or a major retrofit
In theory, everyone can have a wetroom. A wetroom is where the shower is completely open plan, although a glass panel can be used to act as a screen in the room. The shower floor is flush with the top of the shower drain and rest of the bathroom floor. There must be a slight gradient on the shower floor to allow the water to flow in the direction of the drain. Wetrooms can make your bathroom feel more luxurious and spa-like whilst also being a practical solution for anyone with restricted mobility.
Wetroom styles
It is crucial to consider the space, layout and positioning of elements within your bathroom. They will play a critical role in supporting you to identifying the best layout for your wetroom. Wetrooms come in three main formats:
You can take your pick from a wide range of wetroom configurations that we have with endless possibilities to suit your space. With options for one to four rotating or fixed glass panels, we will help you find a style that best suits your needs.
Glass thickness, height & cleaning
Glass panels come in various sizes. The thicker your glass panel the stronger its presence is structurally and from a design point of view. Typically, the 6mm glass panels are a great choice for those with a tight budget. The 8mm glass panels are great quality, designed for busy bathrooms and suitable for commercial use. The 10mm glass panels are more costly style but echo luxury and premium quality.
Ensure your glass panel is toughened safety glass. At Flair, all of our glass panels undergo surface compressive stress tests and are EN 12150-1-2015 certified.
The height of any glass panel depends on the width of it as both contribute to the total weight of the glass panel. Glass panels tend to vary between 1850mm – 2100mm with custom glass panels ordered by people needing more height.
At Flair, we believe in creating moments of joy in the everyday – and this goes for the maintenance of your wetroom also. Our panels are treated with ClearVue glass coating. This treatment is a hydrophobic glass coating which resists the build-up of limescale and grime on the glass surface making it easier to clean.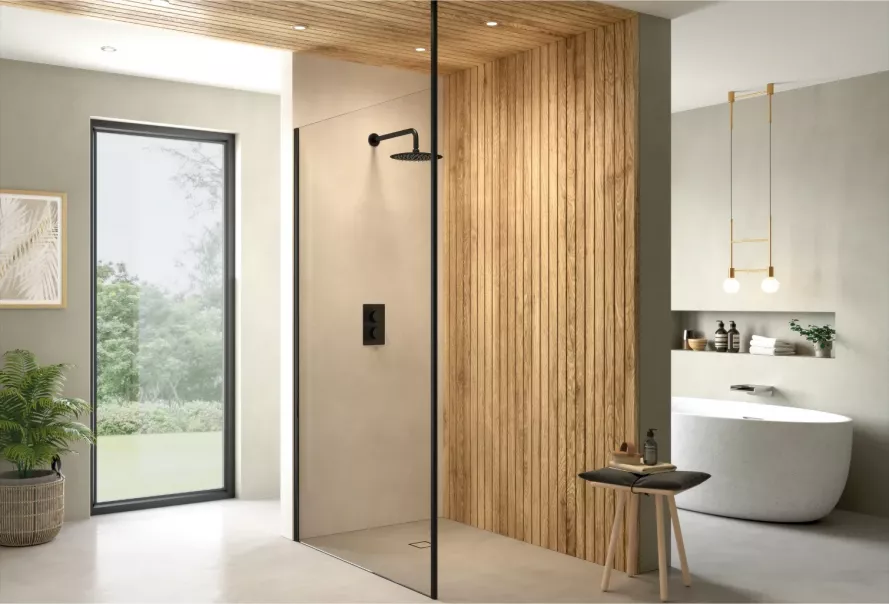 Glass framing & stabilising solutions
When it comes to the framing of your glass panel, you can opt for a robust frame with a sturdy metal profile or go for a frameless design, creating a modern minimalist look.
Your glass panel will require a stabilising solution to give it extra support, making it stable and secure. Our stabilising solutions come in a range of options, with angled solutions, straight bar solutions, floor to ceiling solutions and much more. Complement your bathroom design by selecting a stabilising solution from our iconic AYO Colour range.
Up to A Lifetime Guarantee
Premium Materials & Finish
Shower Solutions Since 1952
Accessible Customer Support